Elsass-Lothringischer Volksbund Jugendgruppe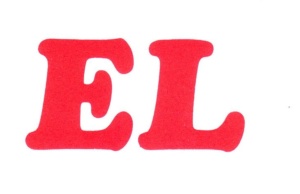 Contact info
EL/RJ – (F.67500) Haguenau
2 rue des roses
phone: +33 (0)3 88 73 16 67
email: Robert.joachim@gmx.net
Founded 1970 in Strasbourg
Member since:
The Peoples Union of Alsace-Lorraine has been in contact with the FUEN/YEN
since 1970, though already 1963, prior to its formalization, an Alsace delegation
has been involved in the European Federalist movement in the Council of Europe.
In 1987 the EL hosted the Easter Seminar that took place in Strasbourg.
Minority
Alsace-Lorraine
Number of minority members
About 2,5 million inhabitants
Settlement area
The settlement area stretches from the Upper Rhine to the Moselle or from Basel until
Luxembourg, where the German language has been established for decades. Today, the
area is furthermore divided into three French administrative districts.
History of your minority
Since the early Middle Ages different German dialects were spoken in the Alsace region.
After the French conquest of the region in the 17. century, the German language was
heavily dependent on political conditions given by the French state. After the French
Revolution the language policy in France shifted to a more monolingual approach, which
reached its peek in the years between 1918 and 1940, where the German language was
systematically forbidden. After the Second World War this language policy was
encouraged even further, only leaving German dialects viable while maintaining standard
German forbidden. Today, German is only taught as an optional faculty in schools and
Alsace organisations are primarily funded privately.
Organisation
The aim is an autonomous and democratic state Alsace-Lorraine with the right of self-
determination in a federalist Europe of peoples and regions. This would require the abolition
of the three regional district councils (départements) in Alsace-Lorraine and the
foundation of a general regional council with the principle of subsidiarity as its main line of
administration. German would have to be reestablished as the main language in schools
and official writings/documents. Environment protection and campaigning against nuclear
energy are also important aims. Finally, the support of civil organisations and business initiatives.
Fun Facts/Celebrity/Jokes/Sayings
What does central-jacobinic mean? During the French Revolution, since in the Middle Ages only one of the two church spires planed for the Strasbourg Cathedral was build,
(correspondent to the motto of parity) it was proposed to dismantle the sole church spire
present.
The EL labels the human rights in France as an export-article.
The future lays in Europe, the Rhine and Moselle shores.
Photos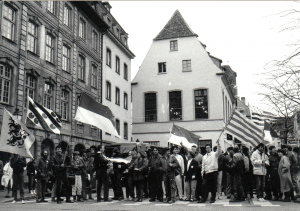 YEN Easter Seminar Strasbourg 1987
Ried-Stadt-Vogesen 2014