The Minority Messenger Summer of 2019 has come to an end!

Its been an amazing year with you all!
Thank you for your motivation, your time, your creativity, your dedication and all the wonderful stories and thoughts you shared with us after your visits.
With the end of the Minority Messenger Summer of 2019 the project like you have known it so far is also coming to an end.
But there is no need to be sad….
Our 3-year Minority Messenger project is evolving into the next stage. In 2020 the Minority Messengers HUB will work together with a dedicated team to create the "State of Play of Young People from Minorities in Europe".
For more information, have a look here.
---
Minority Messengers Summer 2019!
Summer has come and it is time to spread the message of diversity, spread the word about issues of young people and minorities in Europe and to create understanding and help in the building of peaceful societies.
Become part of YEN´s Minority Messengers Project, travel Europe and meet young people, youth organisations, other minorities and others interested in your story.Learn how to prepare, implement and follow up on your own project.
Practise your skills in implementing workshops, speaking in front of people or presenting an idea and try out some non-formal education methods.
To become part of the Minority Messengers Team, write to mmsteeringgroup@yeni.org
Mmore informations under in our OPEN CALL.
…don't wait, the summer is waiting!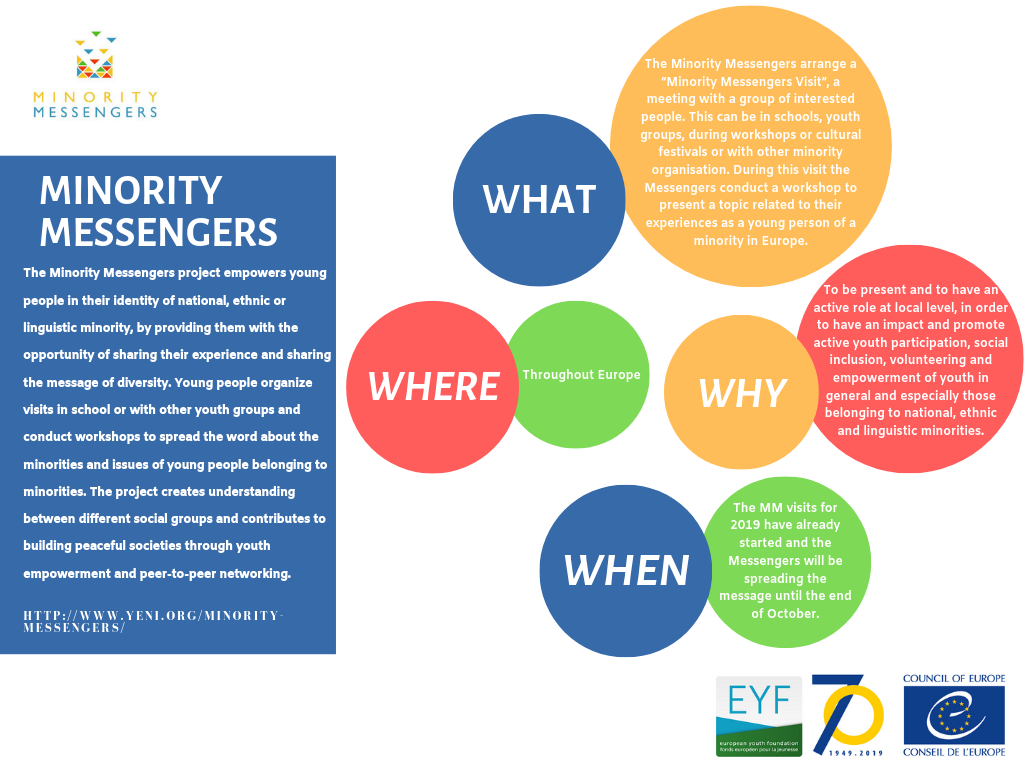 ---
How it all began:
After a longstanding experience in youth sector, trying to empower, train young people, provide them skills and knowledge to actively participate in society we concluded that the best thing to do that is to be more present on the local / regional level. In order to fulfill our aims regarding active youth participation,social inclusion, volunteering, empowerment of youth we need to have better communication and better connection with our member organizations on the local level. If we want to better control processes of youth participation and make long-standing influence on European youth we must make our trainings and seminars more sustainable and we will do that with Minority Messengers project. The main idea of the Minority Messengers project is to be present and to have an active role at the local level.
At the Kick-Off event in Trin, Switzerland and Easter Seminar in Opole, Poland we trained the messengers, provided them basic knowledge and skills about minorities and cultures they are going to visit and made set of toolboxes, they will use in different occasions on their trips.
During the period from May till the October they will visit Minority Organizations with the knowledge of youth participation, social inclusion, active democratic citizenship, preservation of minority languages and cultures and skills of motivation of young people, public speaking, debating, conflict resolution. They will visit not only minorities but together representatives of minorities, majority, marginalized and vulnerable social groups, Roma, young refugees and they will try to start a public dialogue. They will spread the message of diversity, spread the word about the minorities and issues of young people who belong to minority, create understanding between different social groups and help building peaceful societies. In the regions they go they will be like a candles or light towers of diversity, understanding, volunteering and active youth participation. To fulfill that we will closely cooperate with our member organizations, local authorities and other youth organizations. We trained 50 Minority Messengers and we intent to send them on 100 visits till October 2018.
Minority Messengers will also make the work of YEN more sustainable because we will directly have feedback of the impact of our work and our seminars and trainings on local level, so we can make changes and adapt. Minority Messengers will also collect data on important topics for minority youth and youth in general: minority rights, social inclusion, language and education, youth participation, active citizenship. When they come back we will at the Youth Leader Seminar collect all data, filter and analyse it and start with the creation of the database of minority and youth issues in Europe. That will be only a start (pilot phase) and we want to make it a long-term project. During the Youth Leader Seminar we will also evaluate the visits and try to adapt to the situation on local level, adapt toolboxes and to prepare for the next visits.
As overall result we want to produce the database of minority and youth issues in Europe and sum up collected information in the document – State of play of minorities in Europe. Throughout our future activities database will be constantly fed and State of play of minorities in Europe updated and changed.
Here you can find the updated forms and documents for the Minority Messengers Summer of 2019!
They were developed by the Minority Messengers Steering Group and the YEN Board based on the feedback of 2018 to help you, the Minority Messengers to prepare and evaluate your visits.
If you have any Questions related to the Minority Messengers Project, please write to the Minority Messengers Steering Group (mmsteeringgroup@yeni.org)
After your visit!
After your visit, please fill out this Evaluation Form and send us your pictures and stories!
Fill out the Expense Claim Form and send it with all original receipts by post to:
Jugend Europäischer Volksgruppen JEV
Postfach 640228
10048 Berlin
If have any questions regarding the Evaluation Form or the Expense Claim, please write to mmsteeringgroup@yeni.org.
Here are some of our Minority Messengers!
…find out about the visits they have done and why they are part of the Minority Messengers Project.
A big thanks to all of our Messengers for their work and motivation in "Spreading the Message!"
---
Ewelina Stefańska
Ewelina Stefańska
Minority Messenger from Klub Studencki "Pomorania" (Pomorania Student's Club)
Minority Messenger Visits:
2018
A visit in a middle school in Kościerzyna (north Poland) – May
Topic: "The minorities, ethnic groups and languages in Pomerania, Poland and Europe"
Two visits with different groups in the highschool in Kościerzyna (north Poland) – June
Topic: "The minorities, ethnic groups and languages in Pomerania, Poland and Europe"
2019
Workshops with highschool students from different parts of Kashubia in Puck, Krokowa, Piaśnica (north Poland) – April
Topic: "The beheading of kite – Kashubian custom as an example of the mechanism of the scape goat & the pyramid of hate" with a visit to Piaśnica – the place of extermination during WWII"
Cultural exchange and discussion with representatives of Lia Rumantscha and Swiss Ambassy in Łączyńska Huta (north Poland) – June
Topic: "Cultural exchange – the staging of Kashubian custom and a Rumantsch concert in the front of Kashubian cottage"
Why I am a Minority Messenger: "It is so touching that when I asked youths during the workshops about the hate speech, if anybody had no contact with the hate speech in everyday life, anyone raise his/her hand. They all see or experience the hate speech. There were so focused and silent during the conversation that I was very surprised and proud because they knew that the topic is extremely important."
Valeria Mayer
Valeria Mayer
Minority Messenger from JDR (Jugendring der Russlanddeutschen)
Minority Messenger Visits:
2018
With young volunteers during a workcamp in the Iberian Peninsula. – August
Topic:  "Minority languages and landscape: Language diversity and social inclusion on the examples of concrete minorities in Europe"
With students of the "Language Studio. Dnestrovskaya" in Volgograd – September
Topic: "Youth Participation, minority languages and minoirty landscape"
2019
With Roma and Non-Roma Youth at "Dikh He Na Bister" in Krakow – August
Topic: "Exchange and Discussion about Anti-Gypsyism, remembering the Roma Holocaust, the work of YEN and  youth participation. "
Why I am a Minority Messenger: "I really believe that this project has an important meaning for both minorities and majority because it's a very unique possibility to sit together, share our ideas and express our common concerns."
Currently you can see the visits of the Minority Messengers from 2018 and 2019 on our Facebook Page.