EUROPEADA 2012 – Get the spirit!
The hosts of the tournament – the Lusatian Sorbs – raised articularly cheers. The closing event started immediately after the last two games for the first four places, were played. The German speaking minority of South Tirol became champions this year, as well as in tournament of 2008, which was held by the Romansh minority in Switzerland. The second place was occupied by the Roma from Hungary. The Croat minority from Serbia won the third place against the Carinthian Slovenes. The Sorbian national team – "Wubranka", ranked fifth, alongside the other three teams eliminated from the quarter-finals.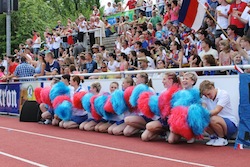 The Language Diversity team showed in particular that during the 16th and 24th of June was not only about football, but about nineteen minorities and cultures. The YEN board used the football tournament not only for a meeting, but was further active together with other YENies, launching the language and awareness raising campaign of RML2future – the Network for multilingualism and linguistic diversity in Europe. We would not have been able to make so much promotion without you, so this is why we would like to thank you enormously – Dankeschön, köszönöm, dźakuju, hvala, teşekkürler, tak, merci, faleminderit, спасибо, dankewol!
There were 16.000 spectators, which we supplied with different promotion material: clap banners, candies, seat cushions, balls, energy drinks, postcards, promotion bags, Handbooks and t-shirts. Additionally, several multi-language podcasts with impressions and interviews of the participants were produced. Furthermore, a documentary about the EUROPEADA is being developed with the involvement of linguistic diversity and promotion of multilingualism, as well as a corporate video about bilingualism in the Lausitz. Besides the documentary, we contributed to the atmosphere at the stadiums – through different flash mobs related to multilingualism. We promoted the event in the city of Bautzen, and visited two schools were we introduced notion of multilingualism and linguistic diversity, through a language quiz for the pupils. And that`s not all: 11 games were broadcasted live on the internet, for which we had very talented and multilingual RML2future and YEN commentators. At the same time, the games were commented online in different languages.
YEN would like to thank everyone who helped out at this event, as well as to the promoters and organizers of EUROPEADA 2012 – the Federal Union of European Nationalities (FUEN) and the Domowina, and the Federation of Lusatian Sorbs – for a memorable week!
You can find more information and the produced podcasts on the new website www.language-diversity.eu, on Facebook www.facebook.com/languagediversity, and on www.europeada.eu.
http://www.yeni.org/wp-content/uploads/2016/09/Europeada-1.jpg
144
250
Kasia Siemasz
http://www.yeni.org/wp-content/uploads/2017/03/yenLogoTrans-300x293.png
Kasia Siemasz
2012-06-26 09:49:01
2016-09-30 10:02:07
EUROPEADA 2012 – Get the spirit!