Strudel from the German Minority in Hungary
We at YEN are very sorry that we are all going to miss this years Easter Seminar due to the Coronavirus. But hopefully you are all staying healthy and are taking good care of yourself. To do this and maybe look back on the Kick-Off GJU (German minority in Hungary) has shared with us a delicious Strudel recipe.
Strudel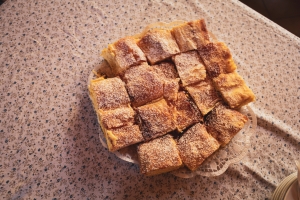 Ingredients:
1kg Flour
0.7 l warm Water
1 Tbsp Salt
Filling:
For the filling GJU has shared with us 3 filling options, so that pick the one you like the best.
1st Filling: Cottage cheese, Butter, 4 Eggs, Sugar, Vanilla Sugar
2nd Filling: Poppy seeds, Sugar, Grated apples (or plum jam), Cherries
3rd Filling: Bread crumbs, Cherries, Sugar
Mix the flour, warm water and 1 Tbsp of salt and knead until it becomes soft and even. coat the dough in a little bit of oil before rolling it out into a square. Now it's time for the filling. Pick the filling you like the best and mix all the ingredient together in a bowl before spreading it on the dough. There are no exact measurements for the filling, but go with you instincts and ad as much if the ingredients as you like (some like it sweet, some like it sour).
When you have spread the filling evenly on the dough, you can start rolling your strudel.
When done place it in a form and coat it with some oil or butter and bake it in the oven for about 45 min at 180°C.
https://www.yeni.org/wp-content/uploads/2020/03/Kick_DAY_4-47-von-54-scaled.jpg
1706
2560
Kasia Siemasz
http://www.yeni.org/wp-content/uploads/2017/03/yenLogoTrans-300x293.png
Kasia Siemasz
2020-03-23 09:30:49
2020-03-23 10:38:52
Strudel from the German Minority in Hungary