On the trails of minority languages
Our workshop group at the recent Youth Leader Seminar of YEN "Rušiti zid(in|ov)e / Breaking Walls" consisted of eleven different minorities from eight different countries, spoke eight minority languages, and had one goal: to connect.
Despite the huge variety in minority language situations it was easy to connect, so our goal was quickly achieved. Of course, this does not mean that our group sat around drinking coffee all day. We discussed all of our minorities and compared, criticised, and complimented each other on the positions of the minority language situations.
First, we saw the most common connections between each other. One of these connections would be that all of our minorities have to face the negative mind-set of the majority. For example, the Vlach and Frisian languages have in common that they are branded a dialect as to downgrade the status. The reaction to this is to counter it and give the language a platform. Another connection would be the European Charter for Regional or Minority Languages (an important legal document of the Council of Europe), which some of our minorities fell under.
Nonetheless, the charter also shows us that minorities are treated differently: Some countries have not signed the charter at all, some countries have signed it, but have not recognised all minorities that live within their borders. There were also differences between recognised minorities. The North Frisians, for example, are barely represented in education, whereas the Slovenes from Italy can attend a Slovene school, and the Germans from Hungary can go to a bilingual school. The Vlachs are not represented at all in the school system, as their language is considered a dialect and not worthy to be taught at all. The West Frisians are somewhere in between. In primary school, there are options to attend trilingual schools, but in secondary school, Frisian is dwindled down to 1 hour a week in the first year. We have focussed on languages as identity marker for the minorities, but this is not the case for all. The German minority identity in Russia, Poland and Hungary for example is more focussed on history, traditions and customs.
With the workshop, we did not only want to discuss our own minorities. We also wanted to visualise the connection between minority languages. For a better understanding of the languages we did a bit of research on the language classification and we realized that most of the classifications do not include minority languages. This way we came up with the idea of building classification trees only for minority languages. There are now three trees that show minority languages from the Germanic, Slavic, and Romanic language families, and give some vocab examples. Soon you will find the trees online. You can use them for instruction, or just for fun.
In the end, we believe we started something very beautiful here: Minority language trees that will keep blooming through each YEN seminar!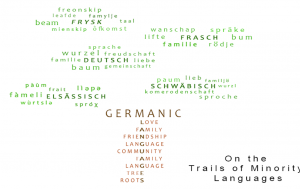 https://www.yeni.org/wp-content/uploads/2016/10/YLS2016-Sprachenworkshop2.jpg
639
960
Andrej Müller
http://www.yeni.org/wp-content/uploads/2017/03/yenLogoTrans-300x293.png
Andrej Müller
2016-10-10 11:10:43
2016-10-10 11:28:57
On the trails of minority languages