Study Visit at "Lunjina"- the Aromanians in Serbia
On the 9th, 12th and 13th of July 2014, YEN- President Matic Germovšek and Vice President Stere Stamule went on a study visit to our Aromanian/ Vlach member organization "Lunjina" in Belgrade/SR. First meeting with Marin Bodrožić and Ljiljana Nikolajević, who already participated in YEN events, they made a historical city tour through Belgrade and discussed about the work of "Lunjina".
The members are usually meeting 2 times per month in a seminar room given to them by the city council for free. No own house or office are available. At the usual gatherings most of the participants are over 60, discussing about the history and culture of the Aromanians/ Vlachs in Serbia and the Balkans. The youth organization gathers around 7-8 people, who are in average 32 years old. Most of them have only limited time to join the meetings.
On Saturday meeting with Sava Marković, they saw the main Orthodox churches of the city and discussing on the political situation in Serbia and the Balkans. With Slobodan Manak, usually participating for Lunjina in YEN events, they visited the historical town Zemun, one of the municipalities of Belgrade, formerly populated by some hundreds of Aromanian/ Vlach families, leaving behind important architectural buildings. Many streets were called after Aromanian/ Vlach personalities. Sava, Ljiljana and Lidia Sterić got to know YEN's work a bit and were invited to our upcoming events, prepared to joining the Easter Seminar 2015. Matic and Stere had a debate with them on minority rights in Europe and about different points of view regarding the use of the name of the Aromanians/Vlachs. YEN thanks for the wonderful hospitality! Lunjina promised to do their best to be present at least at the main YEN events.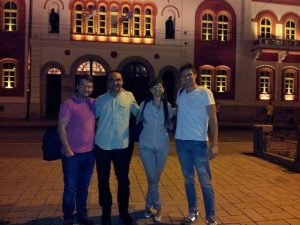 https://www.yeni.org/wp-content/uploads/2016/09/k640_lunjina-1.jpg
480
640
Kasia Siemasz
http://www.yeni.org/wp-content/uploads/2017/03/yenLogoTrans-300x293.png
Kasia Siemasz
2014-07-15 14:19:40
2016-09-30 14:24:26
Study Visit at "Lunjina"- the Aromanians in Serbia