Youth Leader Seminar 2012 for the first time in Gdańsk/ Poland
Also in this year the annual Youth Leader Seminar of YEN took place. Host this time was the youth organization of the Kashubians – the Klub Studencki Pomorania – who had invited from the 9. – 14. October to the port and former Hanseatic city of Gdańsk.
The Seminar was organized under the slogan Solidarity in Diversity, with which the participants on the grounds of the old shipyard at the European Solidarity Centre discussed the topic, as well as the Polish workers' movement "Solidarność".
During the official opening, the participants were welcomed by Paweł Kowalewski – the president of Pomorania – as well as welcomed by YEN president Sebastian Seehauser in the Old Town Hall of Gdańsk. To the participants were speaking, among others, also the senator Kazimierz Kleina – a Kashubian – and Elżbieta Krzemińska, a board member of the Ukrainian association in Poland.
Further the attending organizations were allowed to introduce themselves and to put a selfmade flag on a map. Subsequently, the participants went on city sightseeing, in order to discover the most beautiful places of Gdańsk.
In the early evening the first workshops at the European Solidarity Centre were held: "The Idea of the Solidarity", "Social Participation", "Social Change" and "Role of a Leader". Interdisciplinary, with lectures and films these topics caused interesting discussions between the participants – in each case regarding individual experiences in the own minority. In the plenum it turned out that above all questions of social participation for us and our organizations play an important role: Which kinds of participation are there? How can I motivate young people to work for the society and/or the own minority? How can this motivation be kept?
After the first workshops, the famous Exchange Market took place in the evening. Here, the many minority organizations exchanged their culinary specialities among themselves. Thus, the YENies came also into the discussion with the guests of the seminar, like the Slovaks from Hungary, the Polish minority from Czech Republic, as well as the Hungarians from Romania.
Not only workshops were offered, but also a diverse program during the hole week. Among others, a movie night ("Czarny Czwartek – Black Thursday" about the worker protests in December 1970), a presentation of the Council of Europe, the youth sector and the European Youth Foundation, an open debate at Radio Gdańsk, creating a graffiti in a railway tunnel about "What means Solidarity for you and your Minority? ", a multicoloured parade through the Old Town and last but not least the public music concert "Solidarity in Diversity" on the occasion of the 50th anniversary of the Student Club Pomorania.
All in all, the second largest seminar of YEN with 60 participants from different minority regions of Europe, was a full success. The YEN board would like to thank very much the orga team of Pomorania.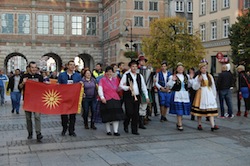 http://www.yeni.org/wp-content/uploads/2016/09/YLS-2012-4.jpg
166
250
Kasia Siemasz
http://www.yeni.org/wp-content/uploads/2017/03/yenLogoTrans-300x293.png
Kasia Siemasz
2012-10-16 10:08:18
2016-09-30 10:14:41
Youth Leader Seminar 2012 for the first time in Gdańsk/ Poland